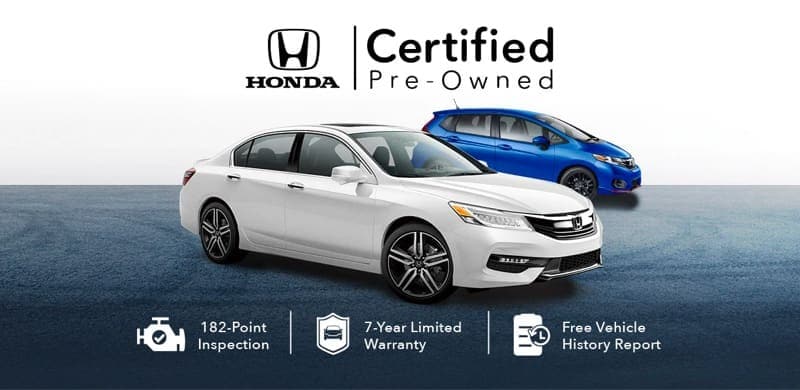 Certified Pre-Owned
Nothing compares to the quality of a Honda. No other program comes close.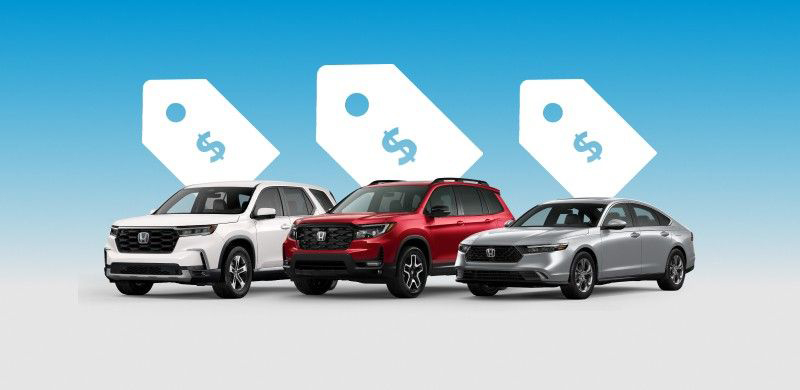 Current Offers
See this month's featured current offers going on now on new Honda vehicles.
Our Reviews
Always helpful and thorough!
Excellent customer service! We always by our Honda's from Russell Honda because of their excellent customer service! Jarrod Russell and Neal Nesler were great throughout the buying process!
I usually go to Honda World in Conway for oil changes because they have GREAT customer service however today at Russell Honda Jarek D made me feel that coming to this location is worth it with his professionalism with customers. Thank you for the good experience today!
I took my 2018 Accord to get a new battery my car hadn't been drove for 7 wk cuz of surgery. It was very dirty and the clean it up They were so polite made my day from the one legged woman that had knee replacement surgery thank so much. God bless you!!!
Nick and Brent were both amazing! They worked hard to get me approved for a car. I went in and sat with nick and told him what I was looking for, he showed me my options and was honest about the deal I'd be getting. He was great with contacting me and letting me know exactly what I needed to do and what I needed to bring to close the deal. Brent and nick worked hard all day trying to get me approved with different lenders. Back and forth on the phone all day! He was very communicative and quick. He laid out all my options amd showed me the best route to take. He even Stayed passed closing to make sure I was able to sign everything. Both parties were super great. I'd definitely recommend going to see them! Thank you both so much I can't wait o get into my new car!
Carlos is "customer service " personified. He was very helpful i answering my questions and put me at ease immediately even though my husband who was ill usually manages our service visits. I highly recommend him.
I am extremely skeptical of dealerships as much as the next guy. There was hesitation to take my 2018 honda pilot in for service when I noticed a check engine light on. These guys were extremely prompt and courteous. They diagnosed my problem nearly immediately and informed me it was covered under my warranty. The service center was top notch in the handling of my situation. They have earned my respect and trust. I will definitely take my car back for any future repairs. Best part was that they did not try to up sale or try to make me buy something unnecessary. Straight to the point! Very well done!
I have to put special thanx to Mr nick tate, he helped with my tire issue.
I've been car shopping for the last few weeks. After having a bad experience at the Honda dealership in Little Rock, I felt discouraged with the whole car buying process. I was told they had a car coming for me from a sister store. After a few days with no update, I checked in and was told it was still on the way. A week and a half later I found out that they didn't even have a vehicle for me and couldn't seem to locate one. I decided to look at other dealerships online and found exactly what the other dealership had been searching for at Russell. I did an inquiry online and within an hour I had a call from Mary. Immediately, she was a ray of sunshine on the phone. She said she saw that I was interested in a new Honda and asked me exactly what I was looking for. I told her I had found a specific car on their site and wanted to know if it was still available. She said it was and we set up a time for me to come look at it the next day. The moment I arrived, she made me feel 100% comfortable. She was waiting on me and had my dream car pulled up and ready to go for a test drive. She even took the time to explain all the safety features on the vehicle as well as letting me know about the customized settings you can select to personalize your car to you. She answered every question I had with ease. Car buying is exciting but can also be nerve wracking. Especially, when making such a big purchase. While I knew exactly what I wanted, Mary was a huge part of why I purchased my new vehicle at Russell. Her, along with the other employees I interacted with made it such a smooth and enjoyable experience. Being in sales myself, I know how important customer service is and the Russell team was top notch. If you are looking for a new Honda, I can't recommend them enough. I'm so blessed to have met Mary and look forward to referring anyone I can to her in the future!
Our customer service agent Carlos at Russell Honda went above and beyond to have a crucial part overnighted and installed. We had VERY little time to have the repair made but Russell got it done. We are so thankful.
I was driving home, headed to an appointment. Suddenly I heard Air, hissing noise and I Freaked out. I w stopped at Oil changing business. They were able to partially secure it, so I could get to Honda. I LOVE YOU RUSSELL HONDA, YOU TOOK CARE OF ME 10 MINUTES BEFORE CLOSING!! GOD BLESS EACH ONE OF YOU!! YOU ARE TRULY ALL ABOUT YOUR CUSTOMERS ❤
Love the sales side....well, at least the guy I usually use. I don't know about the rest of them. The service department though is not great and is getting worse. Guys are short and unhelpful on the phone. Edited 4/5/21 to say that the service side has stepped it up since my last review. Always take my car there for service and they have been very helpful and friendly. Changed from 3 star to 5 star.
I will continue to buy from Russell Honda again and again and refer them highly. Top notch customer service, straight forward, and pleasant. Neal listened to what I wanted and how much I wanted to pay and made it happen... no over promising, no BS, no pressure and very thorough. Brent in finance did just the same. Thank you guys for a job well done!
I just completed my second car buying experience with Russell Honda, more specifically working with their salesman Wilbur. Wonderful service as always! Since buying my car from Matt in 2018 I have always stuck with Russell for my routine maintenance and as soon as it came time to upgrade to an SUV I knew exactly where I was going. These guys go above and beyond to get you the best deal, get you what you want, and get things done quickly. I literally cannot think of one negative thing to say about this dealership. I was hesitant to make the plunge on this deal, but it was too good to pass up. Wilbur was patient with me, never tried to push me into an alternative to what my mind was set on, and was overall just pleasant to deal with. I plan on doing exactly what I did with my car, scheduling my maintenance with Russell and when the time comes trading with them again. GREAT PEOPLE!
I would highly recommend the Russell Honda Service department! We were on a cross country road trip over the holidays when our car suddenly shut down on us in the middle of the high way. When we started it back up, the check engine light was on. Not wanting to drive 13 more hours with 3 kids 6 and under without ensuring the vehicle was in good condition, we frantically searched for a Honda dealership nearby. Despite it being 2 days before New Years and the service center being swamped, they were able to fit us in within 30 minutes and had our problem checked out and fixed in under an hour. I would especially recommend Carlos who was kind, friendly, and empathetic to our needs! They even had an amazing kids waiting room that my 3 kids loved!
My first experience with this dealership has been great so far. We had a couple of bumps during the purchasing process, but they did their best to satisfy this customer. The sales rep who assisted me was Neal. He listened well and answered all of my questions. Today, I am enjoying my new HR-V Sport. I left a different dealership because of poor customer service; it's the service department that truly determines the quality of professionalism and customer care. I expect to have a great experience here.
This was 4 years ago so memory is a tad rusty, But my mom purchased a 2016 Honda HR-V EX-L Navi finished in Mulberry Metallic, My mom was super proud because it was off showroom floor! Salesman was al. Although the car was traded in at another dealer (missed her old car) after a whopping 7 months, but during that time we loved it! My mom has 2 jeeps prior to the honda and once warm weather hit she was starting to miss the top and doors off so we traded in for a jeep. And a little extra detail, We now have a beautiful Lexus NX. I'm a car enthusiast so i'll often pop by local dealers and we still see al, and one of my favorite things about al is that he treats us like a friend and not someone he sold a car too, even after 4 years and not owning the car.
Mother bought 3 Honda's from Russell. She had nothing but EXCELLENT and honest service from the sales staff to the service department, even when trading up, they gave her top dollar.
Great experience. Carlos always walks me through everything I need to know. Can't recommend him enough. Thanks to the whole team.
I've been coming to Honda since I bought my my car here in 2016. I've had nothing but a great experience and highly recommend Joseph in the service department. He is amazing! He deserves 10 stars!
Excellent!!! All service people were professional, polite, and respectful. The service advisor explained what was needed and showed me an issue while my vehicle was on the lift. Ladies, you know that sometimes servicemen can be hesitant to address females, but these men treated me as fairly as they would a man. My 1999 CRV is riding well; feels solid. They added a free vacuuming, car rinse, and cleaned out some leaf debris from the wiper area. Very nice. The service was expensive, but I have a greater peace of mind as big issues were addressed. One caution, no service people are wearing masks, and social distancing seems difficult. I'm in a high risk group for COVID 19, so that made me a little nervous.
I bought my first vehicle on my own from Russell about a week or so ago. My sales person was Eric Flowers. He was very patient, answered every question I had and it was the best experience. I had been to another dealership that was uncomfortable and I felt very forced to purchase a vehicle I wasn't crazy about, but luckily was able to leave. My deal with fair and future costs were even brought up in regards to tires when comparing to another vehicle. This is the second vehicle I have been involved in purchasing from Russell and will never go anywhere else. Thank you so much to Eric and Russell Honda!
I had literally looked all over the country and online for a Jeep Renegade. I called multiple dealers and very few were helpful or nice. Right when I was about to give up, Russell Honda had just gotten one traded in and it was exactly what I was looking for. Now for the review...the people at Russell Honda were awesome! I was driving from Mississippi to pick up the car and Eric and Emily were so helpful and nice the entire buying process. On a side note, Russell Honda does a great job at detailing as well.

Welcome to Russell Honda
At Russell Honda in North Little Rock, Arkansas, we take pride in being a dealership you can count on. Whether you're shopping for your next vehicle or getting your current ride serviced, our team will strive to treat you respectfully and honestly while meeting your needs with great customer service.
With our diverse inventory, buying a car in North Little Rock, Sherwood, or Jacksonville is easy. We stock great new Honda models like the Civic sedan, the CR-V crossover, and the Pilot SUV. Don't forget to check out our selection of used vehicles, too. No matter your financial situation or the vehicle you desire, we can help you get approved for a great deal that fits your budget.
If your vehicle needs maintenance or repairs, you can feel confident bringing it to Russell Honda's service center. Drivers from all over the Little Rock area trust us to get the job done! From oil changes and brake service to engine overhauls and body work, we're ready to treat your vehicle right. Our Collision Center has a highly coveted Gold Class® rating, and our expert technicians are required to receive state-of-the-art training each year so we can keep that rating.
Contact us online, give us a call at (501) 436-0110, or visit our showroom to experience a warm Russell Honda welcome!
Get Directions To Russell Honda